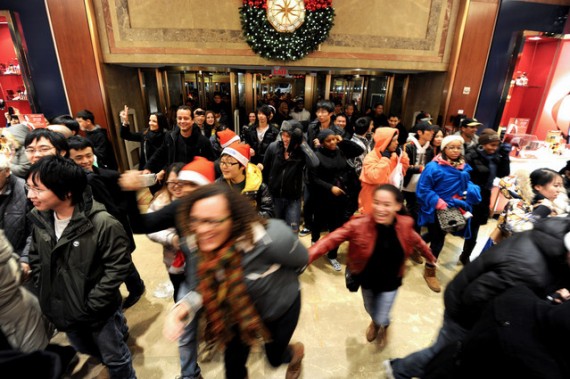 Today's post is from Rachel, a member of odc. Thanks for sharing, Rachel!
The point of Thanksgiving is gratitude for what we already have, all of the things that make America great! Yet, it seems like the whole purpose is getting lost and my favorite holiday is becoming…that day when you eat too much, lay around, and then buy everything in sight.
I've heard a lot of commercials lately for Black Friday sales. In fact, I've heard more about Black Friday than I have about Thanksgiving. This is sad to me. Thanksgiving is supposed to be the holiday, but it gets run over by sales. I'm amazed by the incentives that stores are offering as reasons why I should shop with them.
This looks an awful lot like gluttony, followed by sloth, and then completed with greed. All of this hoarding of food and merchandise on Black Friday seems to be discontentment that's been disguised with the excuse that some of these purchases will be given to loved ones.
Everyone complains of the anxiety and the frenzy and the pressure to please, but we fall into it anyway. We NEED this and it's on SALE. We tell ourselves that if we shop online it'll be calmer and easier, but the adrenaline rush is still there. Last year's isn't good enough. I have to get this for him or he won't be happy.
What if we gave from our hearts rather than obligation? What if we received with appreciation rather than expectation?
So, as we celebrate Thanksgiving, let's calm down and keep that warm full feeling throughout the Christmas Season. Here are some ideas when you are tempted to complain about your shopping experience and a reminder to be content.
Commercial says, "We have the latest [styles, technology, fad…]" – Thank God that you have the funds to purchase.
Commercial says, "We're not crowded." – Thank God for that you have people whom you love well enough to be worth your time, energy, and effort as you brave the shoppers.
Commercial says, "We don't have long lines." – Thank God that you are only in long lines for something frivolous – not medical care.
Commercial says, "You don't have to park far away." – Thank God that you have legs that work well enough for you to use them. Thank Him that you're only going in to buy presents and not trekking for miles to get clean water for your family.
Commercial says, "Shop online in the safety of your home." – Thank God that you live in a stable country where the only conflicts in our streets are over the latest pair of shoes.
Commercial says, "They won't make any more TWINKIES." – Well, thank GOD! Need I say more? Well, I will. Thank God that you live in a country with so much nourishing food that you can whine about the loss of empty calories.
Commercial says, "We have [whatever they're selling] to make your holiday perfect" – Thank God for the only perfect Christmas that ever was. I'm certain that they didn't have anything from the local retailers and they turned out just fine.
Happy Thanksgiving.
image source: http://www.bloomberg.com/image/iCy1oXdlpEPo.jpg