I wanted some coffee.
I now live in the coffee capital of the world … right?
It would be easy to have a wonderful cup of coffee.
You've been to Starbucks. It's as plain as day. Grande … Venti … it's Italian.
Espresso, cappuccino, frappucino (?) … I'll have some latte, please.
Italian's aren't much for variety.
Unless pasta in different shapes and sizes means variety.
Unless pork cured in different shapes and sizes – colors too – means variety.
I shipped over my coffee press … for those times I wanted an Americano.
That's Italian for "A big cup of watered down coffee."
… I think.
After six months, the time came.
I found the beans … in bulk … bold, for sure.
Espresso beans of course.
I needed a grinder.
Needed.
I didn't need.
I've see the face of someone in need.
I doubt I've needed anything more than three times in my life.
I've always had everything.
Wanted.
I wanted a grinder.
Grind the beans, boil the water, enjoy the joe.
I found a grinder at market. It was a manual kind. No electricity required.
It was less than half the price of an electric grinder.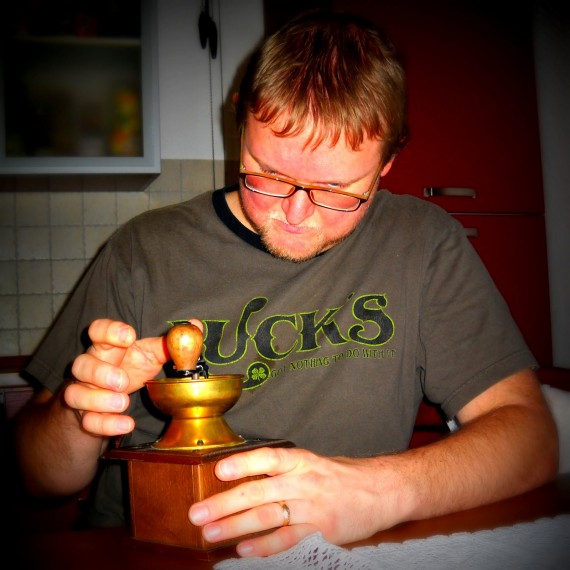 I wanted an electric grinder.
I could grind my coffee. Grind my hot peppers. Make my Americano with ease.
It was half the price, that manual coffee grinder.
I took the reins, dropped His providence, and held regret.
My Pastor asked me why I didn't pray harder.
I wondered why I didn't wait longer.
Praying and waiting.
Little did I know, as it always is with His providence, what was already on its way.
Pray.
Wait.